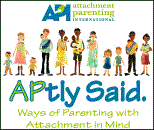 I am an official blog contributor, with my first post being posted on Attachment Parenting International's new blog, API Speaks. 
This new blog's mission is to "capture the real stories of life as an AP family and to highlight the fact that, despite all the varied family structures, cultures, religions, and dynamics that exist in the world, there is one thing that unites us: Our love and compassion for our children." (from API Speaks)
I will be a regular contributor with my posts appearing around the seventh of each month- give or take a few days.  The first post that appeared was a post that appeared on my blog, from last March- "Following My Instincts." 
API Speaks, which was launched last month, is a helpful blog to read, and gain insight into different parents experiences with their children, ranging from birth, to feeding, to sleeping.  Even though every parent has different paths they take with their children in these areas, the common bond is, a respectful and gentle approach.
 It is so hard at times being a parent, and trying to do the best you can for your children.  For me it is like a breath of fresh air to read other parents have similar experiences, trials, and triumphs as I.
I hope you will not only read my posts at API Speaks, but read other experiences and stories posted there.  Check out this new blog- I am sure you will find something that speaks to you as a parent.